Windows XP Backup File Recovery Tool to

Move Windows XP Backup File
How to Use NTBackup Tool for Backup Creation?
Open the NTBackup tool on your machine
For this, either you can Go to Start > then Programs > then Accessories > then system Tools > then Backup

OR
You can press the Windows + R keys > and then type NTBackup and then hit the "Enter" key from the keyboard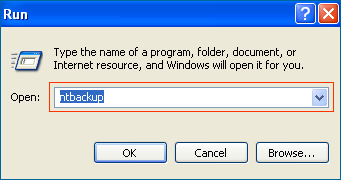 It is better to use the "wizard mode" of the tool until you are fully familiar with this utility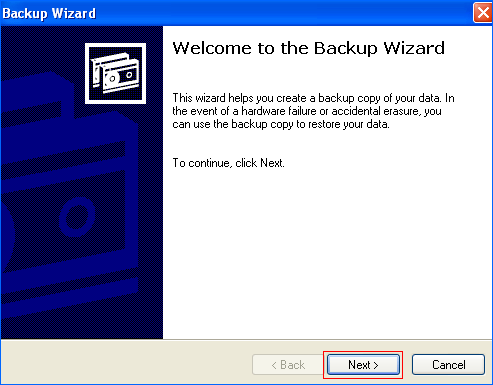 Click Next
You will be backing up data first
Click Next
Choose what to backup
Click Next
For example you can backup your entire C drive and the System State too
Click Next
Now, you got to choose a location where to save the backup file. The location can be on your own machine computer or also on any other computer on the same network as yours. However, you cannot burn a CD to save the backup file from NTBackup directly to CD but you can surely restore windows backup file from a CD.
Now just save the BKF file to the required location on your computer
For example you can choose to save the data to the D drive on your machine
Select a name for your file
And then click Next
You can also choose the "Advanced" mode for availing more options

Move Windows XP Backup Files - MS Backup Recovery Tool
If you are wondering how to move Windows XP backup file, then our Windows XP backup file recovery tool can be the answer for you in this case. It is very adept even in performing the following operations too like.
Move XP backup into another drive
Save XP backup to Windows 10, 8.1, 8, 7
Right now, MS BKF recovery software is available at market for moving windows BKF data in windows 7 and windows 8 comfortably. Apart from that, each person can recover corrupt backup file and even restore entire BKF file as desire windows operating system like windows vista, windows 7, windows 8.1 and Windows 10.
Download Windows Backup Repair Tool With Multiple Formats
At presently, you can obtain multi-talent windows XP backup file recovery tool from the international competitive market. This software is published by the organization in the market with two versions like demo and license. Through demo edition, you can look view of your backup file at front of your computer screen, but if you want to save XP backup to windows 7 so purchase license edition at $89 personal and $180 Business license. Afterward, you can swiftly move windows XP backup file into windows 7 operating system without encountering any complicate situation.